The latest OV News straight to your inbox
OV Wright Wows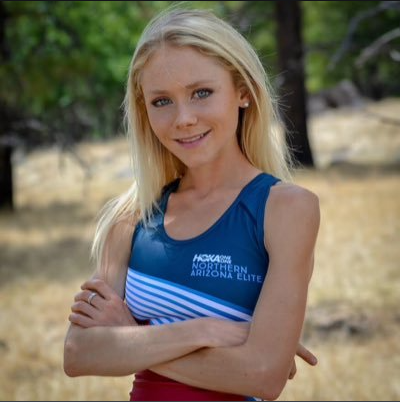 OV and pro runner, Alice Wright (S 06-13), has this week triumphed in her first ever marathon. Taking to the roads in Houston for the Chevron Houston Marathon, Alice achieved a staggering time of 2:29:08, placing her second overall.

Alice's running career began at School, where she was a member of both the Athletics Team and the Cross Country squad, completing the triple crown by being a member of the Swimming Team.

After King's, Alice took up a running sports scholarship at the University of New Mexico.

More recently, due to injuries, illness and the global pandemic, Alice has been unable to race for two years, so turning up in Houston with such an incredible time and position speaks volumes to her tenacity and training.

Many congratulations, Alice!
We were delighted to welcome OV and dentist Rupert Monkhouse (Ch 05-12 and King's St Alban's) back to School this week.

Rupert regularly visits both the Senior School and King's St Alban's to help pupils by passing on his knowledge of how to care for your teeth and also to talk about careers in dentistry.

This week he very generously gave his time to visit Nursery, Reception and Year 1 in King's St Alban's to help alleviate any fears about visiting the dentist and also to show the children how to look after their teeth.

Rupert spent some time with King's Headmaster, Gareth Doodes, before speaking with some current Sixth Form about healthcare applications as well.

Thank you, Rupert, for your time.
OV's Environmental Mission
OV Ian Smith (Cr 73-78) and his family have been taking strides to improve their environmental impact at home. He took to LinkedIn this week to share what they've been doing. Please note this is a precis of Ian's full article, so please do get in touch with us if you'd like to contact Ian for more information, or you can read it in full on LinkedIn:

"Whilst current headlines are naturally taken up by the ongoing pandemic, inappropriate parties at No 10, tennis star visas and high profile court cases, it would be easy to forget that just a few weeks ago the world's attention was on COP26 and what we need to do to avoid climate change disaster.

"What nation states are going to do to bring about improvements is at the heart of this but that's all on a national scale. As a number of speakers and commentators have said recently, this needs individuals to change their behaviour. In my own family we have been taking some small steps (and some pretty big ones too actually) on that journey and I thought I'd share some of those. I'm aware that we are in the lucky position of being affluent, living in a beautiful place and being able to make lifestyle choices but surely it is incumbent on those who can be early adopters to do just that. Whilst we are still within sight of New Year's Resolutions, I hope some of this resonates with what other people can do.


What we are already doing
"A bit of context: I think we were already doing quite a bit, particularly for our local environment. We live on a small 40 acre farm in the Teme Valley (the remains of the farm where my wife Lit was born). We have about 18 acres of Ancient Semi-Natural Woodland which is a Site of Special Wildlife Interest (called Broad Dingle) and which we manage with minimum human intervention to maximise the benefit to wildlife.


"Our pasture is permanent and has not been ploughed in at least 35 years and we do not use artificial fertilisers.


"We manage our hedgerows sympathetically for both birdlife and carbon capture. We have a 6.5 acre wood (Tombs Wood), which I planted myself by hand 22 years ago, which has been the site of both our children's weddings and over the first 25 years of its life will sequestrate approximately 392 tonnes of CO2.

"We are members of Worcestershire Wildlife Trust, the Woodland Trust, WWF and the Small Woods Association.

"I was planning my 60th Birthday Party before COVID hit us. The plan was to have it in Tombs Wood and Meadow and rather than hiring a marquee for a day, I asked a local woodsman, Phil Hopkinson, to build me an A Frame construction that would last beyond just one day's party.

"Of course, the party was cancelled because of the
pandemic (and doesn't that now sound ironic given recent headlines) but my A Frame has come into its own. It has been my outdoor "man cave" and personal retreat; a safe outdoor space for 1 – 2 – 1 catch ups with clients, contacts, partners, family and friends. The A Frame used some larch which Phil brought in from other local woods but lots of ash from the wood itself.

"All of that was made more practical by me putting into the wood a WeeHooses composting loo. Ecological (of course) but actually really practical for spending time out in the woods and for visitors.

"We don't eat huge amounts of meat. What we do eat was either raised in our fields or comes from our local butcher, where we generally know the farms and farmers that supplied them. We eat organic vegetables and try to use local suppliers and growers where we can. We grow our own fruit and have honey from hives in our wood. I use an App called Kiki, which rates the environmental and health impact of foods and other products when buying from a supermarket. (Just how many products have Palm Oil hidden in them? It has shocked me). When I retire, I am going to resurrect our vegetable garden, do more foraging across the farm and hopefully rear some rare breed pigs again which we last did in 2007.
"Before COVID, I'd been tracking my own travel carbon impact and had been recording how many work-related car miles I was saving by travelling by bike, train or staying over to visit two offices in two days rather than always commuting home again. In the two years up to December 2019 I had saved 15,500 car miles.

"We switched electricity supplier to Ecotricity a few years ago because of their renewables credentials.

"We very rarely fly anywhere and holiday in Scotland. To be honest, our hand is forced in this regard as Lit cannot fly anymore.


What we changed
"For years, having two dangerous arterial roads going into Worcester put me off cycling to work but I have devised a relatively safe route for my commute that avoids those two roads. But either way involves a couple of rather tedious slow grinds of hills; nothing serious but enough to put someone like me off.
"During Lockdown, I researched E bikes and ended up buying a Merida eSpresso 700 EQ from a wonderfully helpful specialist shop in Worcester called Onbike.

"I was one of those people who used to think e bikes were "cheating" but I now think "what the hell, this is brilliant". Using mine cuts about 20 minutes off the ride each way and takes the pain out of the hills. You still get some good exercise (as much as you want) and enjoy the fresh air and our wonderful countryside.

"Importantly for me as a carer, using my bike has taken some of the stress out of the morning commute. I have no idea how long the morning care routine is going to take when I will leave the house. In a car, that can easily lead to hitting congestion and becoming
even later and stressed in the process. The bike avoids that.

"I manged to do about 600 miles commuting in the summer and have been talking to local council officials about how we could easily improve personally devised commuting routes around Worcester to aid cycling by more people without massive cost. For example, I reckon by improving 300 metres of pavement on the A4103 at Bransford, and publicising my route, about 12 villages would have an excellent and safe cycling route into the City.


Heating, hot water and cooking

"We had our house designed and built for us (for Lit's special needs) about 23 years ago whilst we lived in a caravan in a field onsite with the two kids (then 7 and 9). The house was engineered to within an inch of its life as we knew that we wanted to spend the rest of our lives there, so it is incredibly well insulated and has underfloor heating. However, our heating options back then were very limited (we don't have mains gas locally either) so we had an oil-fired Aga and oil-fired central heating and hot water.

"The first thing we decided to do was to convert the Aga from oil to electric, with thanks to Blake and Bull's skills. The second part of the equation was to look to generate some of our own electricity with a solar PV system on our steel frame barn roof. With the third piece of work in mind as well (see below), I approached three local companies to pitch for our combined work. All three had come as personal recommendations from a friend of mine who works in the property energy sector.
"The company I chose was Caplor Energy Ltd in Hereford and I worked with Richard Collins from Caplor in deciding the direction of travel. Richard and the Caplor team have lived up to their promise and done a great job.

"The Solar PV set up was fairly straightforward and quickly installed. I am now one of those sad people who watches their Solar Edge app wherever I am, which tells me what we are generating/using and so on. Part of the Solar set up is a clever device
called an iBoost which works out if, rather than exporting any surplus electricity, it would be better to divert it to our immersion heater in the hot water tank and give that a top up. I suspect in the next year or two when we have seen how it functions throughout the year, and hopefully costs come down a bit, we will add a battery into the mix.
"Richard and I also discussed the most dramatic (and expensive!) part of our plans, which was replacing our oil-fired boiler central heating system with a ground source heat pump. We are lucky in having the ground to accommodate this, and space in our barn to position the heap pump itself.

"The system is functioning very well and making good use of the zoned controls on our underfloor heating system. It was a significant capital cost but we qualified for the Renewal Heat Incentive payments and received the first quarterly payment this month; these will continue for seven years. Our oil tank is now totally redundant and I now need to arrange safe removal of that.


So what haven't we done?

"What I haven't done yet is bought an electric car. My son has, and I will shortly be fitting a charging point at home for him and other visitors to make use of our Solar PV. I am sure my next (main) car will be electric but I want to wait a couple of years until I know what my car needs are then – and for the options to expand.

"I do think that there is not enough discussion about the overall carbon footprint of cars – in other words taking into account their manufacture and their whole lifecycle, not just their emissions.
"My main car is a Land Rover Discovery 5. That fulfils several main roles for me; it gets through floods (both of our exit routes from our home village flood); it can accommodate the equipment you need in transporting a disabled person (wheelchair, shower chairs etc) and get someone to hospital when needed; it can take 6 adults, a wheelchair and a dog when we go out as a family; it is comfortable and safe on long commutes (and actually achieves surprisingly good MPG on long trips) and it is a useful workhorse around the farm – with the back seats down it is like a Transit. The majority of its carbon footprint occurred in its manufacture, and as my mileage has severely reduced, I intend to look after it and keep it for a while longer.
"I actually own two other cars: a Morgan ARP4 and a 1966 Daimler Sovereign. I would apply the same carbon cost of manufacture argument to justify keeping both of these. Something like 90 or 95% of all the Morgans that have ever been built are still on the road. They are light (mine is less than 1,000 kgs) have relatively small engines, are handmade and use wood in their construction. Like most classic car users, mine are used for a limited mileage. A recent study by the Historic Rallying
Organisation pointed out that an average classic car creates 563kg CO2 in a year. That's around half what you'd create using a computer or a mobile phone for a year.


Conclusion

"Obviously, there are lots of ways that, as a family, we could make further changes and improve our impact on the planet but I'm relatively pleased with what we have done so far."

Ian would be interested to hear what other people are changing to make their own personal contribution to climate improvement, so please do contact us via alumni@ksw.org.uk with your news.
Beyond King's:
Rachael Speirs (née Draper, Co 90-92)
As we start both a new year and a new term when the work for GCSEs and A Levels has seriously ramped up with mock exams, where better to focus our attention than on an OV in education?

OV Rachael Speirs (née Draper, Co 90-92) is currently Deputy Head Pastoral at Solihull School and part of the Senior Leadership Team, a role she has held since 2020. This includes the pastoral care for c. 1,100 pupils aged 11-18 and line-managing the Assistant Head in charge of Safeguarding and Pupil Welfare, as well as the school's Anti-Discrimination Lead, who leads on DEI (Diversity, Equity and Inclusion). This is in addition to managing the Heads of Section for the Lower School, Middle School and Sixth Form, presenting assemblies on contemporary issues and running the Whole School Council.

Rachael's inspiration for education can be pinpointed to her time at King's, where she studied English Literature, Music and Religious Studies for A Level. Her teachers, Peter Diamond (Hon OV), Stephen Le Marchand (Hon OV), and Richard Davies (Hon OV) taught with such passion that Rachael has tried to emulate in her career as a teacher.

Studies aside, Rachael represented the School both on the sports field, in the Hockey Team, and also on the stage, playing Blousey Brown in the School production of 'Bugsy Malone' which remains a highlight of her Sixth Form life.

Indeed, Rachael's passion for Drama and Music has remained with her and she still plays her flugel horn and sings in the Chapel Choir at her current school. Musical connections with King's did not end when Rachael left, as she returned for the School's 450th Anniversary celebrations at the Albert Hall, playing the oboe, when she also met the Queen.

Following on from King's, Rachael moved to Nottingham to study a BA in English and Sociology at Nottingham Trent University. This was shortly followed by her PGCE at Keele University, thereby igniting her career in education.

Rachael began her working life as a teacher at Tudor Grange, Solihull, where she taught English. Her passion for teaching saw her quickly promoted to Second in Department; her commitment to the pupils naturally led Rachael down the pastoral route and she was duly appointed Head of Year.

Moving to Saint Martin's School in Solihull, Rachael continued to teach English but was recognised for her dedication to education and progressed through the ranks: from Assistant Head with responsibility for Sixth Form, then Acting Deputy Head, Deputy Head to Acting Head.

Saint Martin's then merged with Solihull School in September 2020, when Rachael was appointed Deputy Head Pastoral. In this position, Rachael feels it is important as a female leader to be a role model and to pass on some of her experience over the last 25 years in the profession, so she is also a mentor to aspiring female leaders.

Rachael continues to keep very connected with King's, not least by being married to another OV, Matthew Speirs (H 86-91), but also through School reunions and social media. She remains close to many of the friends made at King's.

Rachael's time at King's taught her to grasp opportunities with both hands, work hard and be ambitious – all traits she has tried to follow in adult life.

We are very excited to let OVs know about the King's Foundation's newest magazine: Floreat.

The name was inspired by the School's song, Floreat Schola Vigorniensis, which many OVs may recall was written by W.E. Bolland, and sung for the first time on Speech Day in 1884.

The magazine is designed to keep prospective King's Foundation families up to date with the latest news and features from across the three schools. Available predominantly as a digital magazine, you can read the first edition here. It includes a lovely feature on OV Immie Gillgrass (W 13-20) about her time studying and playing Hockey in North Carolina.

We hope you enjoy reading Floreat.
Get in Touch
Do you have news you would like to share with the OV community? Please do get in touch with us at alumni@ksw.org.uk or on 01905 721737.