The latest OV News straight to your inbox
OV 's Virtual Visit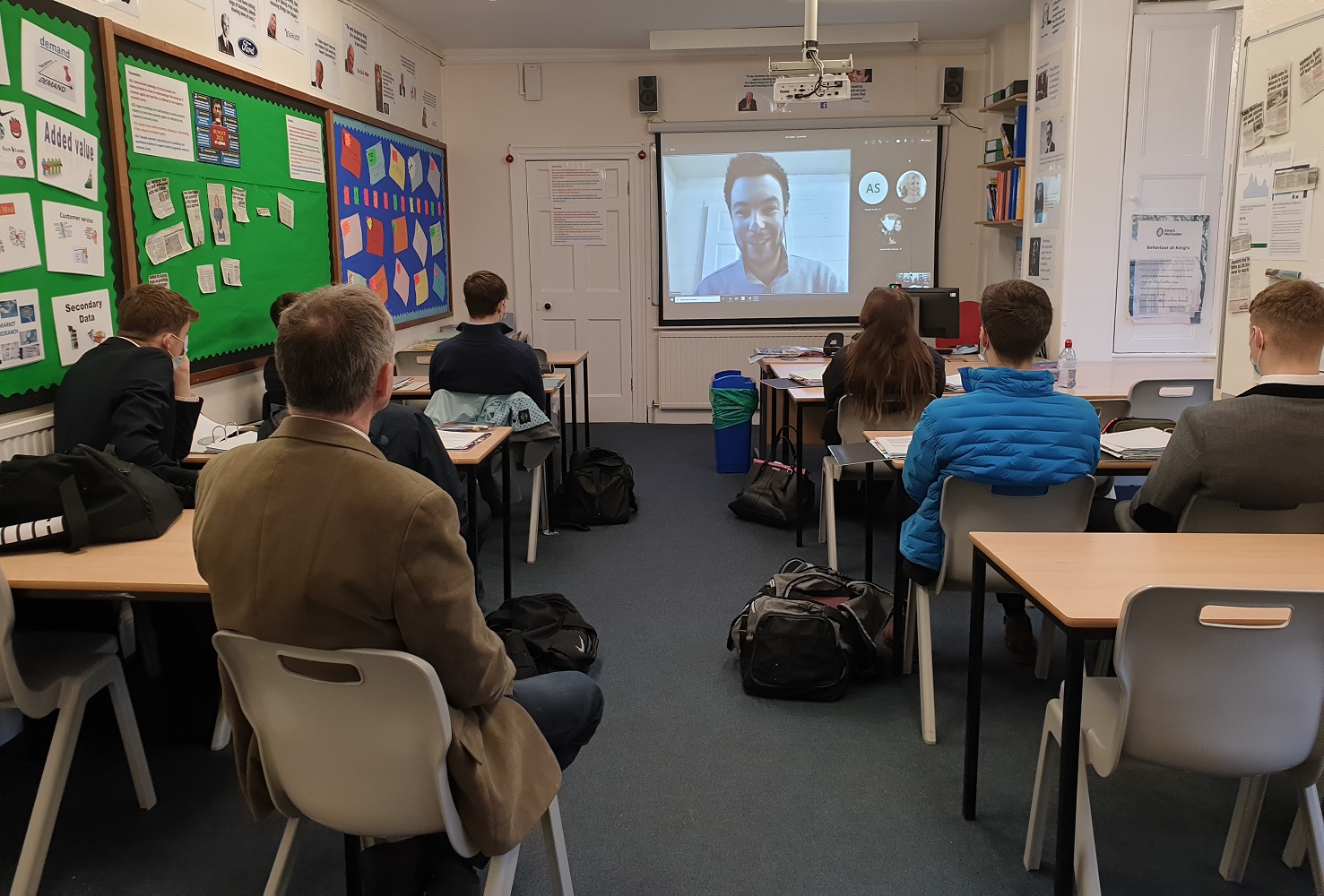 It was wonderful to welcome OV and former Head of School Joe Fowles (Cl 05-12 and King's St Alban's) 'back' to King's this week to speak with some current Lower Sixth Economics students.

Currently an Engagement Manager in the Public Sector and Policy team for global management consultancy firm Oliver Wyman, Joe is days away from taking a sabbatical from the office to join the University of Sydney for a two-year Masters of Public Policy degree.

Joe joined some Lower Sixth in Adrian Batchelor's Economics lesson remotely as a guest speaker to talk about three themes to watch in macroeconomics. He discussed the impact of inflation, currently at its highest level for over a decade; government debt at record levels, and what this might means for future spending; and asset prices, with a focus on cryptocurrency and other digital assets.

The L6 students were fully engaged and asked some great questions, ranging from wanting to know more about cryptocurrency and how different economies and governments around the world are reacting to it to seeking Joe's advice for applying to Oxford, and whether he still used the knowledge learned during A Levels.

Joe added, "I find that I'm still using the principles learned during A Levels, including the structured thinking taught by economics, every day."

An important message Joe gave to the students was to take text book information and apply it to the real world to get a better and more in-depth understanding, explaining that, "economics isn't divorced from politics!"

Many thanks for your time, Joe, and good luck in Australia.
Congratulations are very much in order for OV lawyer and author Abbas Kazerooni (Ch 91-96) who, for the ninth year in a row, has been selected as a SuperLawyer.

Abbas is founding partner of the law firm Kazerouni Law Group, based in California, USA, specialising in personal injury, consumer rights and class actions. Abbas is also an adjunct professor of law, so when he's not in court, he can be found at the California Western School of Law, teaching consumer law.
This follows a successful writing career, with two books to his name, which chart Abbas' dramatic and difficult journey from Tehran to England during the Iran-Iraq war, in On Two Feet and Wings, and his life once he had arrived in England, in The Boy with Two Lives.

SuperLawyers is a division of Thompson Reuters and the rankings are achieved through both peer nomination and Thompson Reuter's research department for results in certain areas of law. To be a 'normal' Superlawyer means you are in the top 2% of lawyers in your specialty area but of course to be Top 50 or Top 100 has even more significance. This is
especially so in California, as it is by far the most densely populated legal demographic in the US and possibly the world.

Speaking about this recognition, Abbas said, "This means a lot to me because my peers, who know the industry most, are selecting me. This is the ninth year in a row that I have been selected as SuperLawyer and the second in the Top 50 and Top 100 categories."

Congratulations Abbas!
OV's Words for Well-being
This week, the School held a Well-being Wednesday and we thought it was only right to extend this to OVs too. OV Liz Havard (K 92-99), who owns and runs The Farm Studio near Crowle, which offers clients specialist Pilates and soft tissue treatments to address their training, lifestyle or rehab needs, helped with these words of well-being:

"My son picked up that gorgeous book by Charlie Mackesy, The Boy, The Mole, The Fox and The Horse and we flicked through some of the pages together yesterday. It reminded me of what has seemed so key to our well-being, in our little family and my business over the last two years – connection. That human connection, the social exchange, the care, the time, and old-fashioned kindness is what has sewn us all together and really supported a sense of personal well-being.
"When we opened the studio doors to our clients after lockdown, we knew we could help clients improve their strength and mobility as they gain confidence in their bodies, but it's the connection to each other, the sense of togetherness in the class or the support of an instructor that makes the real difference to well-being and ensures continuity.

"Those positive exchanges and a natural kindness to others can act as our own self-care or mindfulness practice; we are never more present than when engaged positively with those we care about. So, this week, if you are thinking about your well-being, why not make that call and connect with an old friend, go on that walk with a colleague, join that class, make those healthy snacks to share with a

friend or just get outdoors and try to pass some kindness on to improve your well-being and of course those around you too - enjoy!"

Thank you, Liz, for these thoughtful words for well-being.
We were very impressed to learn of OV George Blakeway's (H 76-86) latest challenge: to walk The Ridgeway - an ancient trading route that runs from Wiltshire to The Chilterns.

An 87-mile route, it covers hills, downlands, woodlands and grasslands, and it is recommended to be attempted over six days. George and his walking partner (a friend from his university days) have been stopping overnight in wonderful old pubs and enjoying the social aspect of the experience as well!

George is not one to shy away from a challenge, having previously competed in the Clipper Round the World Race in 2019 – a 40,000 nautical mile race around the world on a 70-foot ocean racing yacht.

George, managing director of The Fruitful Group, said, "It's a fantastic challenge but also a wonderful way of replenishing batteries and connecting to the natural landscape, flora and fauna, and the history that is constantly discovered on the way."

What a great way to start the year!
This week a Choral Evensong was held in Worcester Cathedral, which brought together the combined chamber choirs of King's Worcester, King's School Gloucester and Hereford Cathedral School. It was a wonderful occasion of choral singing provided by 70 very talented young singers.

It was lovely to see OV David Morton (Cl 84-91) attend the service and give a reading as Headmaster of King's School Gloucester.

David added, "It was wonderful to return to King's and to Worcester Cathedral 30 years after leaving the school. The combined
chamber choirs sang quite beautifully and it was a real treat to enjoy those calm moments of reflection and thanksgiving during the pandemic, which has been so challenging for school communities."
Get in Touch
Do you have news you would like to share with the OV community? Please do get in touch with us at alumni@ksw.org.uk or on 01905 721737.