The latest OV News straight to your inbox
On 21 March 2022, we were delighted to welcome OV Jabba Riaz (Br 91-96) back to School as our newest Barnabas Speaker.

Inspired by St Barnabas, 'son of encouragement', our Barnabas speakers are distinguished, inspirational OVs who are are invited to join our 'Barnabas Group' and return to speak in College Hall to share their experiences and life lessons with pupils.

At King's, Jabba was an active member of the School community. He enjoyed playing for the 1st Cricket and Football teams, took part in Young Enterprise and won a prize for his part in the community service scheme.

Jabba went on to the University of Leicester, where he secured his Bachelor of Business Administration. Since then, he has undertaken a variety of roles in planning and management. At Worcester City Council Jabba was elected Cabinet member for Safer and Stronger Communities. He was appointed Mayor of Worcester in 2018 and is currently Vice-Chair of the Council Income Generation Committee.

Jabba's professional career sees him in charge of the logistics and distribution for Cyroservice, a national supplier of liquid Argon, Nitrogen, Oxygen and Carbon Dioxide.

The Barnabas Day began with Jabba giving an inspirational and exceptional address to the Sixth Form in College Hall, and to the rest of the School via video link. 'Love not Hate' was the guiding principle of Jabba's message to the pupils. Now a Governor of King's, Jabba spoke most movingly of the initial difficulties of isolation that
he faced at King's in the early 1990s. He found his success through sport and his co-curricular passions, supported particularly by the School Chaplain at that time, Rev'd Jonathan Charles, and watched the School develop in mutual respect, tolerance and love. He closed his inspiring address by reminding us all that we each have the power to stand up against discrimination and inequality of all kinds and the duty to call such things out, refusing to accept such injustice wherever we find it, to resounding applause from all present

Having addressed the School, Jabba was thrilled to spend the morning joining Sixth Formers enjoying a range of lessons: Business Studies, Religion and Philosophy, and Politics, all subjects very close to Jabba's heart. Jabba also enjoyed coffee with Headmaster Gareth Doodes and Heads of School, Josh R and Charlotte M, which was a time to reflect on the day.


Jabba's visit was rounded off with a wonderful lunch joined by Head of Sixth Form Josh Hand, himself an OV, Head of Key Skills, Catriona Rees, Director of Finance, Georgina Mason, and the Heads of School, as well as some Politics students keen to speak with Jabba.

Talking about his day, Jabba said, "It was an honour to be invited as the Barnabas Day speaker by the School to talk about my experiences with racism whilst growing up; tolerance, respect, and acceptance were a key part of my King's education and lessons that I have used in my role as Mayor and beyond to bring unity and harmony within the city! I leave the School with my message of love not hate, a message that is universal in condemnation of hate and prejudice and a message especially relevant today."

Thank you for giving your time so generously, Jabba, and your thoughtful words.
Packing a Punch as Peter Grimes
It will have been hard for OVs to miss the sensational, 5* reviews of OV Allan Clayton's MBE (H 91-99) performance in his latest production: Benjamin Britten's Peter Grimes.

This new production of Peter Grimes, directed and produced by Deborah Warner and conducted by Sir Mark Elder, has just finished its run at the Royal Opera House, following its premiere in Madrid in 2021. In precis, the opera is about a Suffolk Village rising up when a lone fisherman (Peter Grimes) loses an apprentice at sea.
A multi-award-winning singer, Allan is established as one of the most exciting and sought-after singers of his generation. The Guardian has called Allan's depiction of the lead role as "tremendous" and "arguably the finest performance of his career to date". This is heartily supported by The FT, whose review enthused, "Tenor Allan Clayton is vocally outstanding in the role, powerful, sensitive and dealing with its idiosyncratic vocal challenges as if they are no problem at all." The i's review was similarly impassioned, "On a stage packed with vocal fire-power, Allan Clayton owns this part so completely that it's hard to imagine anyone else singing it."

Peter Hibbert (Hon OV), who taught at King's whilst Allan was a pupil, was fortunate enough to attend Peter Grimes this week. Of the performance, he tells us, "I had the immense privilege of listening to Allan singing the role of Peter Grimes in Benjamin Britten's masterpiece at
the Royal Opera House on Saturday evening. This was a performance of searing intensity that will live in the memory for a very long time. Allan sang Now the Great Bear and Pleiades with his back to both the cast and the audience. This was an extraordinarily moving moment - absolute genius."

We were honoured when Allan agreed to join our Barnabas Group in 2018, which celebrates inspirational OVs who have excelled in their chosen profession. Allan kindly came to the School to talk with pupils about his School experiences, and generously gave not only a masterclass to some King's singers but also a recital in College Hall.

It is a delight to see Allan's career go from strength to strength, and our many congratulations on this triumphant run.

Photo courtesy of The Royal Opera House

Outstanding Award for this OV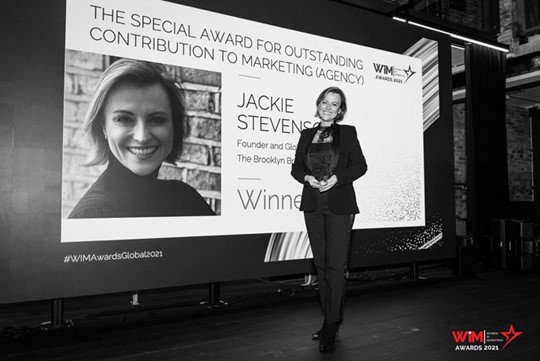 Congratulations to OV Jackie Stevenson (Co 85-86) who has just received theSpecial Award for Outstanding Contribution to Marketing at the Global Women in Marketing Awards 2021.

The awards recognise women making a difference and 'building back better' in the marketing industries across the world.

Ade Onilude, Founder and CEO of Women in Marketing said, "This year's winners demonstrate the very best of our industry. We continue to be inspired by these women who transform marketing even at a time when women's roles in the workplace and home were challenged globally."

Jackie is hugely successful in her industry and is currently Global CEO of The Brooklyn Brothers, a creative agency that she founded in London with three partners in 2008. She was also President of an organisation called Women in Advertising & Communications Leadership (WACL) for 2020-21. WACL brings together 250 of the UK's most powerful women in Marketing, Advertising, Communications and the Creative Industries. Its purpose is to accelerate Gender Equality across the UK sector and inspire the next generation of women to enter the industry and become future leaders.

Commenting specifically on Jackie's award, the judges said, "A pioneer in the truest sense of the word and a true champion of the industry, she revolutionised WACL, turning it into a credible campaigning organisation with the #flexiblefirst campaign providing a framework of fairness and equality to the industry. She successfully lobbied the UK government to reinstate gender pay gap reporting. Brooklyn Brothers Night School is making tangible impacts and inroads into diversifying the industry's talent pool."

Speaking about her award, Jackie added, "To be recognised with all these amazing women is truly a dream, but now to be a part of a network of leaders making real differences in their companies and industries around the world is incredibly powerful. There's so much more we can achieve when we all work together."

Many congratulations, Jackie, on this fantastic recognition of your work.


Every term, the King's Music Department holds a Cleobury Concert. The concerts have been named in honour of Nicholas Cleobury (Ch 58-68) and his late brother, Sir Stephen Cleobury (Ch 58-67).

For the most recent Cleobury Concert, held in March 2022, we were delighted to be able to welcome Nicholas back to School to be a key part of the event.

Simon Taranczuk (Hon OV), Director of Music at King's, said, "This latest Cleobury Concert presented a large programme, featuring many talented pupils across multiple year groups, to great acclaim from the audience of family, staff, and friends. We were also honoured that Nicholas could join us, and the pupils greatly benefitted from his many words of support and encouragement offered in rehearsals."

Nicholas himself is a very talented and expert international conductor, having worked extensively both in the UK and abroad (he worked in Brisbane for a few years, conducting many contemporary Australian works here). In the UK, his experience with orchestras is extensive: he has conducted all the BBC Orchestras, the Bournemouth Symphony, the Britten Sinfonia (Founder Laureate) the City of Birmingham Symphony, the City of London Sinfonia, the English Chamber Orchestra, the English String Orchestra, the Guildford Philharmonic, the Halle Orchestra, the London Mozart Players, the London Philharmonic, the London Symphony, the Orchestra of the Age of the Enlightenment, the Orchestra of the Swan (Associate Director), the Northern Sinfonia, the Oxford Philomusica, the Philharmonia, the Royal Liverpool Philharmonic, the Royal Philharmonic, the Royal Scottish National Orchestra, the RTE Symphony Orchestra, Dublin, the Scottish Chamber Orchestra, the SouthBank Sinfonia and the Ulster Orchestra.
He was Founder Artistic Director in 1992 of the Britten Sinfonia and has conducted orchestras and at Opera houses (notably Zurich) across the world as well as a wealth of choirs and choruses, including the BBC Singers, City of Birmingham Symphony Chorus and Glyndebourne Festival Chorus.

Nicholas added, "It was a pleasure to be back in College Hall and be able to meet and hear so many present day King's musicians. Music at King's seems to be in "rude good health" and brilliantly overcoming the restrictions of COVID. Bravi."

He continued, "From a BBC website: 'Music brings people together - improves your health and well-being - your confidence and resilience - is a creative outlet and is fun!

"King's gave Stephen and me a wonderful start, and is doing so for so many pupils today."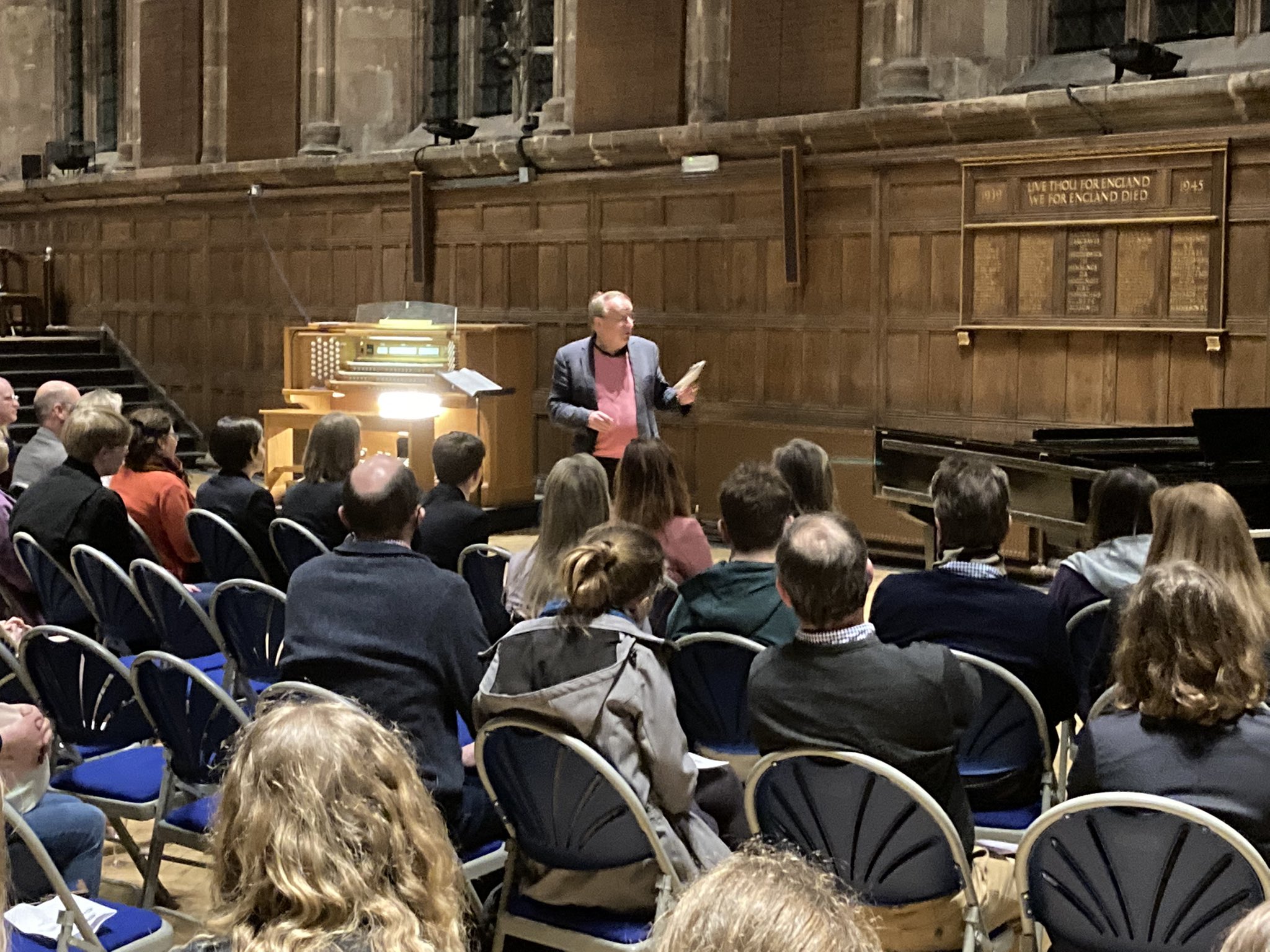 Foundation Director of Sport, Jonny Mason (Hon OV) was in London this week at Rosslyn Park for the National School 7s, where he was delighted to catch up with OV Rowan Kitt (Ch 77-87) – himself there to referee some of the matches.

Jonny explained, "We've had a fantastic week of 7s for the King's teams, especially for our 1st VII and U14 players who both made it to the quarter finals. It was great seeing not only Rowan but also some OV parents too, there supporting the boys of whom we are all very proud."


Today, 1 April 2022, we bid a very fond farewell to some familiar faces in our Foundation Development and Alumni Relations Team: Development Director, Liz Elliott, Head of Alumni Relations, Sophie Borrillo-McLellan, and Database Administrator, Cath Williams.
After over five years with The King's School, both Liz and Sophie are leaving King's. Cath, who has assiduously looked after the alumni database for many years, will also be leaving. Please join us in extending our thanks to them for all their hard work and commitment over the last few years; we wish them the very best of luck in their future careers.
Since Liz started at King's in 2016, she has become a well-respected and very popular member of the King's family. As an OV herself, Liz already had so much knowledge of King's and the work of the Development Office. Organised, warm, genuinely interested in people and invested in having a positive impact and making a difference, Liz has brought in significant money throughout her tenure; money that has gone straight into funding places at King's for children who would not otherwise be able to come to the School. Bursaries are something Liz feels incredibly passionate about and the Open The Door Campaign has been hugely successful under her stewardship. She has worked incredibly well with so many in the King's community and the large volumes of expressions of sadness on news of her departure from Governors, Trustees, staff and OVs speaks volumes of her hard work, popularity and successes. We as a Foundation have benefited from Liz's focus and her hard work, her natural empathy and her innate understanding of how to work with people and how to forge relationships. Our thanks to Liz, for everything she has done for King's. Liz made a huge difference in her time here and we wish her all the best for the next exciting adventures, whatever they may be.
Liz told us, "I have thoroughly enjoyed the last five years at King's; coming back to work at 'my old school' was a real treat and it has been an absolute pleasure to work in such an inspiring atmosphere here at King's and to meet so many OVs throughout my time here. When I first joined the School, I noticed the overwhelming friendliness of everyone who works and studies here and I mentioned in my first Development Trust
Report that, 'the pupils thrive in an environment where they are encouraged to think creatively and to challenge their own perceptions of what they believe they are capable of achieving. The teachers here at King's really do care about the well-being of their pupils.'

"Throughout my time working here, I have been privileged to witness the kindness of the King's family - both here in School amongst the teaching and support staff and also amongst the wider King's family of OVs and former staff and parents. The generosity to the Bursary Campaign has been incredible and I would like to personally thank all those individuals who have given in support of this critical and important programme. Your money really does make a difference to the lives of young people who come to King's from disadvantaged or challenging backgrounds. Thank you.

"I have also been blessed to work alongside a wonderfully warm, enthusiastic and talented team, whose commitment, enthusiasm and sense of humour I will miss so much.

"King's is a very special place and those who form part of its family can know that there is always a place for them here in the heart of Worcester."
Sophie joined King's in 2017 from Malvern Theatres, where she had been a much-respected member of their development team. It was clear from the start that Sophie was ideally suited to the role of Head of Alumni Relations; her enthusiasm and commitment have been second to none. During her time at King's she has created a comprehensive series of events, which run throughout the year and have been hugely popular and very well attended

Sophie's re-branding and refreshing of the Connect magazine has also gone down well. The lively and entertaining reporting of OV News and social media stories have also been a part of Sophie's success story.

Sophie is a popular member of the King's staff and her enthusiasm, professionalism, tenacity and sense of humour will be very much missed; we wish her all the best in the next stage of her career. A large number of OVs have similarly responded to news of her leaving with poignant and heartfelt sentiments.

Sophie added, "It has been a huge privilege to have this role for the last five years. The greatest pleasure of course has been meeting and working with the wonderful King's Worcester community: OVs, Hon OVs, staff, pupils and parents. I am so proud of what we have achieved in this time and immensely grateful for the support and generosity given to the Development and Alumni Relations Office and to the School. From philanthropic gifts supporting life-changing bursaries at King's to careers advice and mentorship, so many have given back in so many ways for which I am truly thankful. I wish everyone all the best and look forward very much to keeping in touch with King's as I move on to exciting new adventures."


Cath started at King's in 2012 in the School office, joining the Development team in 2013. Cath has been a very valuable member of both teams, as well as roles including invigilating and being a Duke of Edinburgh's Award Assessor. She has been a fantastic team player and supported King's for the last 10 years. Cath's work on keeping the OV database clean and up-to-date has been absolutely essential and one of the brilliant things about Cath is her incredible attention to detail. We don't think she really fully appreciates what an amazing job she does – nor how much she will be missed, not only for keeping everything shipshape and accurate, but also for her wonderful caring and thoughtful nature. We all wish Cath a well-earned retirement.

Thank you, Cath; we feel lucky to have had you on board.
Cath responded, "Thank you so much for the opportunity of working with such wonderful people over the years. I wish everyone well."

Going forward, there will be some changes within the Foundation Development and Alumni Relations team, which includes recruiting a new Head of Alumni and Business Development and, once appointed, we will share their details with you. We are pleased to say that Amanda Sutcliffe, who is the current Development Assistant, will become the Alumni Relations Co-ordinator. Amanda has great passion for what she does and will continue to support and look after our OV community.
BOOKING NOW OPEN!

On Friday 13 May 2022, it will be very special to once again host OVs at the OV London Drinks. Usually an annual event, for obvious reasons we have not been able to hold it for a couple of years so we are very excited to welcome you all to the Bankside Gallery.


Please do join us for drinks, canapés, and a great catch up with OVs from across the years.


You can book your tickets here, or scan the QR code. Please do get in touch with us on alumni@ksw.org.uk with any queries.

We look forward to seeing you soon!
Get in Touch
Do you have news you would like to share with the OV community? Please do get in touch with us at alumni@ksw.org.uk or on 01905 721737.