The latest OV News straight to your inbox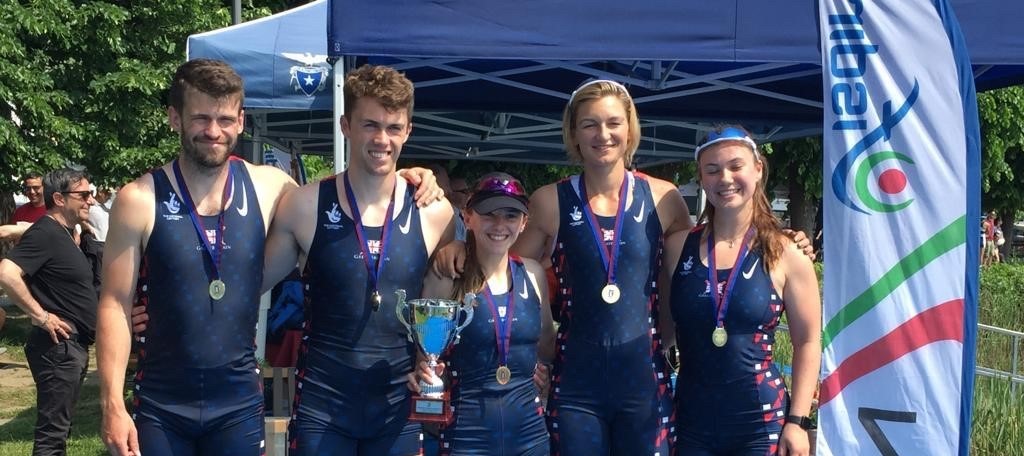 Former King's Head of Boats (2013/14) OV Alex Wenyon (Cr 07-14) and former KSWBC coach Giedre Rakauskaite won a spectacular gold at the Gavirate International Para Regatta this month, as part of the PR3 Mixed Coxed 4+ representing GB. Racing against the Australians, French, Germans and Italians, their winning race on the Lake of Varese also set a new world's best time.

Commenting on the win, Alex said, "It was a fantastic weekend at Gavirate for the whole Para squad. We were so excited to get racing; for some it was their first race since the Paralympic Games last year.

"With a fresh-look team we picked up five gold medals, two silvers and a bronze: a great start for the next Paralympic cycle. I wish the team the best of luck at the first World Cup of the season in Belgrade next weekend!"

King's Head of Rowing, Jim Chalmers (Hon OV), added, "Congratulations on this fantastic performance, Alex. What a star!"

Alex has firmly established herself as an incredible cox, as her call up to Team GB demonstrates, building on her time at King's, where she was a very keen and active member of the Boat Club and the 1st VIII.

We send you our many congratulations, Alex and Giedre, on this incredible achievement.
Many congratulations to OV Dr Chris Lewis (Cl 86-95), who has formally received his OBE from His Royal Highness The Prince of Wales at a ceremony in Buckingham Palace.

Chris was awarded his OBE in 2021 for services to International Development but, for obvious reasons, this was the first opportunity the presentation of the award could take place. You can read more about Chris's work here.

We are also delighted that Chris will be joining us in the Autumn Term as our next Barnabas Speaker.
OV Helen is a Lockdown Education Hero
Congratulations to OV Helen Harding (née Lee, Ch 94-01), who recently won the 'Lockdown Hero' category in the Worcestershire Education Awards 2022.
Helen runs Discover History with her husband Paul, who is a 2nd Lieutenant in King's Worcester CCF and runs the School's Young Archaeologist Club, which started in September last year.

Discover History was founded in 2003 to bring History to life for people of all ages and abilities. This includes costumed performance work for organisations such as English Heritage, talks and guided tours for groups such as the Women's Institute, and delivering fun and interactive history workshops and immersive history days to schools. Care Home reminiscence sessions, media work, training and consulting for the heritage and tourism industry are also offered.

However, the COVID-19 Pandemic changed the way they worked in 2020. Helen explained, "We knew the importance of adapting and moving to a virtual world. We already had a YouTube Channel, so we promised one video every day and this is something we succeeded in doing from day one of
the Lockdown. Our aim was not just to keep the Discover History name going but to help those having to stay home to access our shared heritage."


The daily videos helped pupils with homework and teachers deliver lessons online, with some teachers commissioning bespoke videos for their topic of study. Pupils could also meet an historical character such as Florence Nightingale and William Wilberforce and ask them questions!

The Lockdown Videos were additionally used by Museums and groups who could no longer open their doors or meet in village halls.

Helen was nominated and won the 'Lockdown Hero Award' for their use of YouTube.

Helen added, "It was great to be nominated but a fantastic surprise to win!"

Discover History has won several awards in the past including the Worcestershire Education Awards in numerous categories, the Suffragette Spirit Award in 2018 run by Amnesty International and they were finalists in the Mayor's Best of Worcester Award in
2020. It is currently up for three awards in the #WorcestershireHour Social Media Awards too, which will be judged in July 2022.

A very deserved nomination and win, Helen!
OV Pair Buoyed up for Charity
In 2023, OVs Matt Bladen (W 08-15) and George Farmiloe (Br 08-15) will be taking to the water as intrepid duo, The Worcester Buoys, to row the Atlantic as part of the annual Talisker Whisky Atlantic Challenge. By doing so, they aim to raise £250,000 for Acorns Children's Hospice.

Explaining their inspiration, Matt said, "We're rowing in memory of a close family friend, Jack Dyer, who sadly passed away in 2020. Jack developed a severe form of cerebral palsy from birth, meaning that he required 24/7 care throughout his life. Acorns provided crucial care for
Jack and support for his family, including vital respite, allowing them to recharge their batteries and enjoy time together away from the complex care Jack needed. Unfortunately, recently the charity has been having difficulty meeting its running costs, and having seen the impact it has on families first-hand, we are determined to help as much as we can. We are prepared to push ourselves to our limits to raise both money and awareness for Acorns."
Matt and George first rowed together 11 years ago at King's and have remained good friends ever since – which is essential as they will need to tackle in excess of 3,000 miles of ocean together, rowing in shifts of two hours on, two hours off, for the duration.

If you would like to find out more about Matt and George's challenge, please get in touch via alumni@ksw.org.uk

We wish them both good luck with their training!
OV's Inspirational Teaching
We were so pleased to see OV Isobel Unwin (K 16-18) back at King's this month in the Religion and Philosophy department on a teaching placement.

Isobel is in the midst of a two-year placement at Castle View Academy in Portsmouth as part of the Teach First Graduate Scheme. Teach First's aim is to source prospective teachers from top universities to work with schools in deprived areas and give the pupils access to a level of speciality that they might not otherwise receive. In Isobel's case, her subject is RE, having completed a degree in Theology and Religion at Durham University.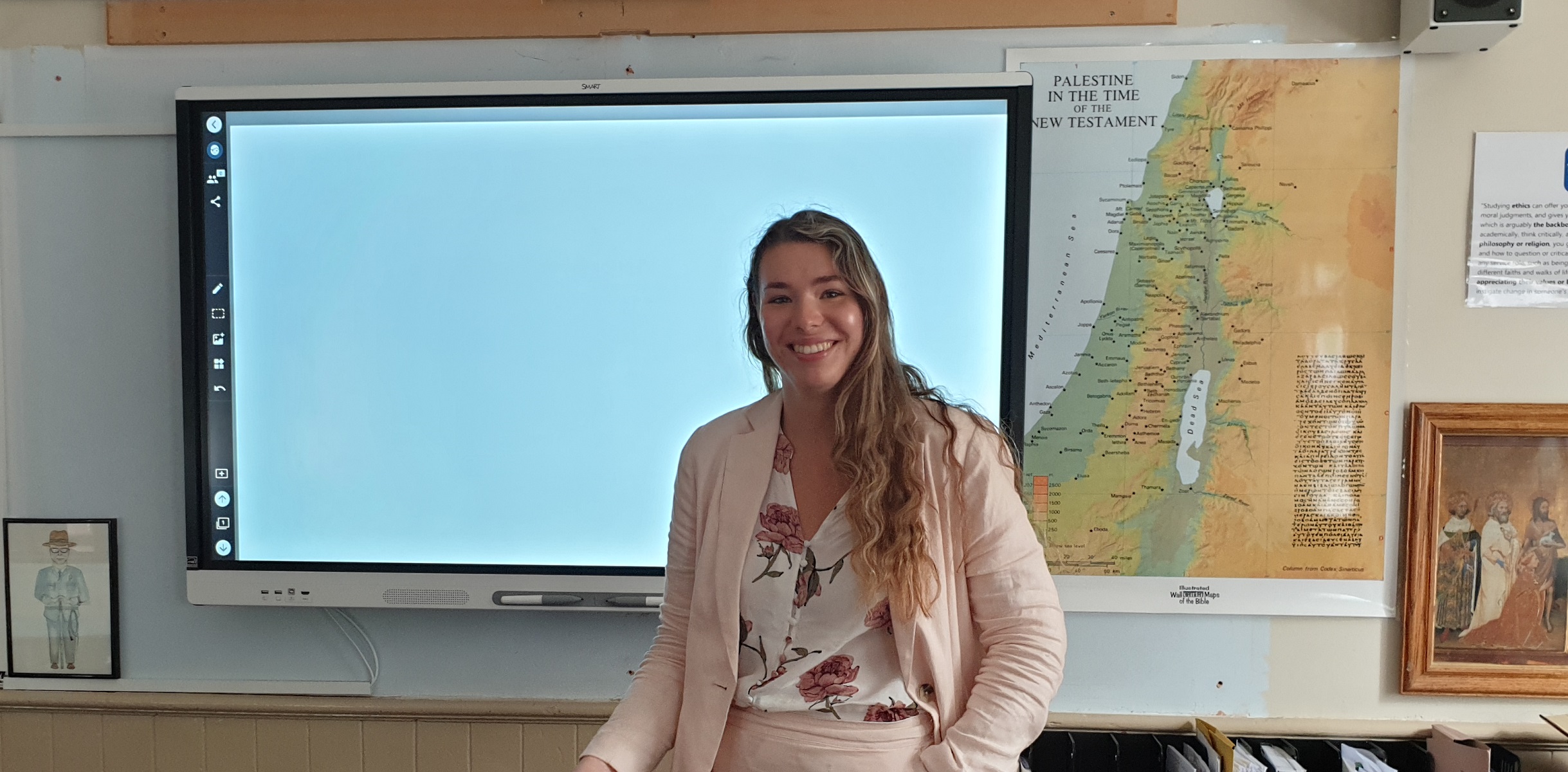 Isobel's return to King's is part of her training, to have the opportunity to spend time in an OfStEd Outstanding rated school for both a comparison and different context to the more disadvantaged school at which the graduate is teaching. This helps to give the graduate teacher a more rounded view of educational establishments, should they not have previously experienced it.

In addition to teaching at Castle View Academy, Isobel has also set up and runs a drama club, having noticed there was no real provision in the curriculum. This was also inspired by her time at King's and she thoroughly enjoyed catching up with Head of Drama, Shara Parry (Hon OV).


Explaining what it has been like to be back at King's, Isobel said, "It has been really nice to be back, seeing how similar it is. I loved the RP when I was at School and know that I would never have thought of doing it at degree level if I hadn't done it at King's for A level.

"King's is very much about inspiring the wonder of learning, and not just about ticking the curriculum boxes. Being back has given me some great ideas to incorporate into my own lessons and help give my kids a more rounded approach to learning, as I do find it a struggle getting my kids to engage.

"What's more, I've also been able to sit in a couple of lessons with my siblings, which has been great fun!"

Isobel has been supported by Dr Ronan McLaverty-Head (Hon OV) in her teaching at King's, continuing to inspire her as he did during A Levels.
On Friday 13 May 2022 we were finally able to hold our long-awaited OV Drinks in London, at the fabulous Bankside Gallery.

It was wonderful to have a fantastic turnout with OVs from across the years, a great atmosphere and lots of laughter and excitement with all the overdue catching up.

We will share more details and photos in due course, so watch this space!
New Chair of the King's School Worcester Development Trust
Following the resignation of OV Andrew Reekes (Ch 64-69) from Chair of the King's School Worcester Development Trust after many years of exceptional service, we are delighted to announce the new Chair has been elected. Nick Clark (H 88-90) was appointed following a unanimous vote by the Board of Trustees.
Nick is an active member of the King's community, through his work as a Trustee, but also as an OV and a King's parent.

The King's School Worcester Development Trust builds up long-term charitable support for the School and ensures that the wishes of those who give to the School are properly upheld, making sure pupils who come to King's benefit from the generosity of those who donate.

This includes:
- Opportunity for all through the provision of means-tested bursaries to enable pupils from all backgrounds to attend King's regardless of their financial circumstances.
- Sustainable, progressive development through the investment in high-quality facilities.
Speaking of his appointment, Nick said, "I am honoured to be elected as Chairman of the Board of Trustees at The King's School, Worcester.

"With a team of highly experienced trustees, I look forward to working closely with the School and Governors to deliver our growth targets to open doors to opportunities for young pupils."
Calling all OV Cricketers!
Your Old Vigornians Cricket Club has entered the prestigious Cricketer Cup: a national competition for alumni teams.

The first round match will be against King's College Wimbledon Old Boys in Wimbledon on 12 June 2022 and it would be fantastic if there are any OVs in the area who would like to don their pads in support. Please get in touch if you're available to play: alumni@ksw.org.uk


King's Pupils Pass ABRSM Music Exams

Music is still going very strong at King's, and very well done to the thirteen pupils who recently passed their Associated Board of The Royal Schools of Music (ABRSM) exams last term. They received their certificates from the Headmaster, Gareth Doodes, and the Director of Music, Simon Taranczuk (Hon OV) on College Green this week.

This is in addition to the ten pupils who also recently passed their Trinity and London College of Music exams.

Exams were taken on a range of instruments including violin, 'cello, piano, trumpet, trombone, singing and organ.

You can read more about it here.
Annual OV Reunion Weekend - Save the Date!
We will shortly be sending out at a 'Save the Date' email for your annual OV Reunion Weekend. For those keen to get it pencilled in the diary, though, the black tie OV Reunion Dinner in College Hall will be taking place on Saturday 17 September 2022.

We are looking at the rest of the day's structure, so will be in touch soon with more details, and to let you know when bookings will be open.

In the meantime, get thinking about your table of 10 for the dinner!
Get in Touch
Do you have news you would like to share with the OV community? Please do get in touch with us at alumni@ksw.org.uk or on 01905 721737.